I love my profession as a breeder:
It is wonderful, despite the daily challenges.  In the Hautes-Alpes, the mountains are so specific, they protect us.  This means we can maintain diversified, integrated farming and green mountains.  An entire territory . share, abundant nature . enjoy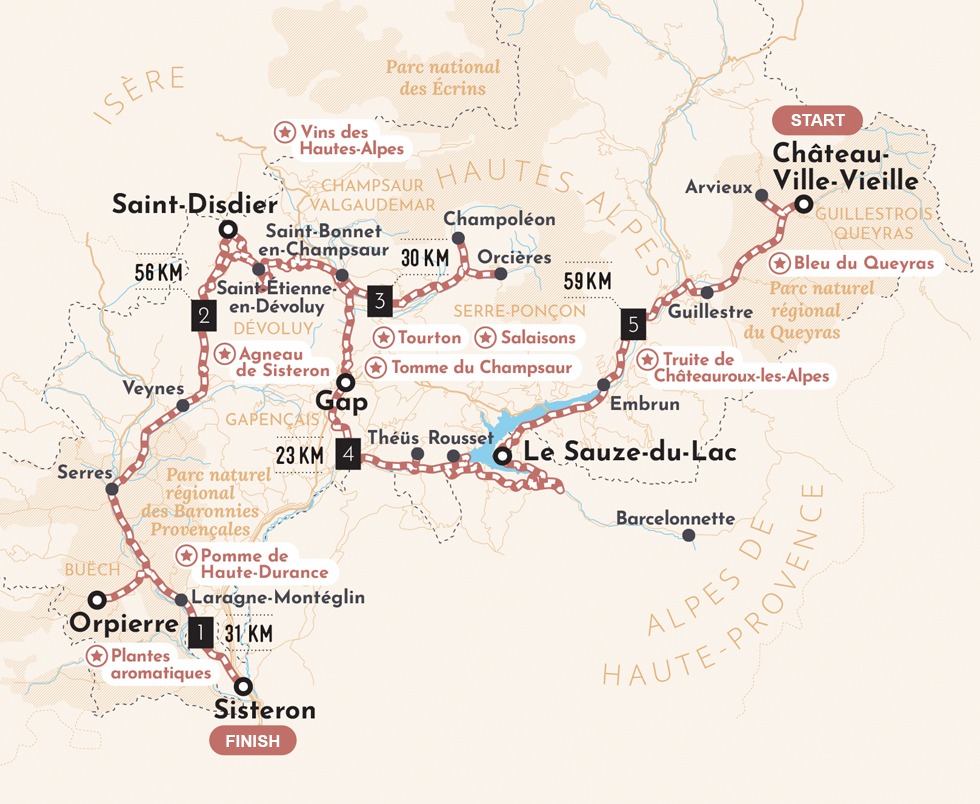 FROM SISTERON TO THE BUËCH VALLEY
This road trip starts in a land of scents and flavours where the gentle way of life is combined with outdoor activities, cultural visits, or simply relaxing. From the historic town of Sisteron to the Buëch Valley, an area where lavender and herbs are grown, you are sure to find time for replenishment.

FROM THE BUËCH VALLEY TO THE DEVOLUY
Head for the Dévoluy to discover an unspoilt, mineral land full of character and natural surprises. The caves, the Gillardes resurgence, and the Bure plateau are ideal spots for contemplation. A farming region, where the sheep farmers are the main suppliers of Sisteron PGI Lamb.

FROM THE DEVOLUY TO THE CHAMPSAUR AND ON TO THE GAPENÇAIS
The Dévoluy gives way to the Champsaur Valley at the gateway to the Écrins National Park encouraging 'slow travel' so that you can enjoy cured meats and other local specialities, such as tourtons. The Manse and Bayard passes lead to the Gapençais, where you will be able to amble along the streets of Gap.

FROM THE GAPENÇAIS TO THE AVANCE VALLEY
After the charm of Gap's historic centre, the Avance Valley, located between the Durance Valley, the Serre-Ponçon Lake and Gap, is highlighted in this stage. Discover the Hautes-Alpes IGP wines and Haute-Durance apples.

FROM THE AVANCE VALLEY TO THE QUEYRAS VALLEY
The Queyras Valley is a fabulous open-air playing field with a myriad of villages displaying exceptional architectural heritage.
Everything is worth a leisurely visit: the fountains, the polychrome sundials, carpentry and woodworking workshops where ancestral skills are perpetuated. And, of course, and unspoilt and preserved natural setting. Discover the cheeses, particularly the soon-to-be PDO Queyras Blue cheese